2020 CT Maps Competition
The 2019-2020 school year is well underway. That means it's time to think about the 2020 CT Maps Competition! Learn more about this fun competition for Middle and High School students on the CT Maps Competition storymap and register your school today! Registration deadline is March 20, 2020.
Note: web maps and story maps must be created using an ArcGIS Online for Organizations account (not a free public account). Check to see if your school already has one or register for a free ArcGIS for Schools bundle before getting started!

2019 CT Maps Competition
The CT GIS Network would like to congratulate the participants of the 2018-2019 CT Maps Competition. Students and teachers from across Connecticut recently participated in this national maps competition for middle and high school students. Sponsored by Esri and utilizing Esri's ArcGIS Online platform, students presented data and information on a topic or project of their choice in interactive story maps. Subject matter ranged from wildlife to war battles. A panel made up of GIS professionals judged the entries and selected a top prize winner in both the middle school and high school divisions. We would like to recognize the students and teachers who participated in the contest this year and acknowledge the house of work that go into collecting data, developing maps, and producing supplemental material including videos and engaging photographs that make these projects so fantastic.
For the CT Maps Competition, Esri has granted $100 awards to the top 5 maps in each division. The 1st place winner in each division will be submitted to Esri for judging at the national level. The top overall individual/team in each division will receive an invitation to attend the Esri International Users Conference in San Diego, California in July 2019. In total, 36 states participated in this year's national competition. Esri will announce the national winners on June 3, 2019.
We are pleased to announce the top 5 maps and the first-place winners of the 2019 Connecticut Maps Competition.
High School Division Winner:
1st Place | Birding the Audrey & Robert Tobin Preserve
Student Author: Madelyn Malinowski
Teacher: Laurie Doss
School: The Marvelwood School, Kent, CT
View: Details, Story Map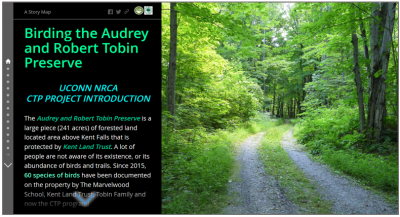 Middle School Division Winner:
1st Place | Water Quality of the Rippowam River
Student Author: Aryan Pandalai
Teacher: Jennifer Ferris
School: Scofield Magnet Middle School, Stamford, CT
View: Details, Story Map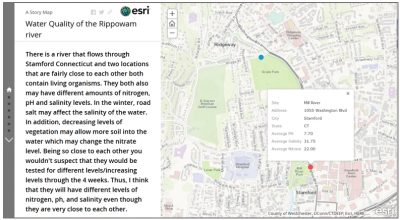 Additional Award Winners | High School Division:
The Marvelwood School, Kent, CT
Pilot Bioacoustics Study of Avian Wildlife, Details,  Story Map
Are Acoustic Contributions to the CT Bird Atlas Possible, Details, Story Map
Lyman Hall High School, Wallingford, CT
View the Q, Details, Story Map
A Tour of Ives Farm: A Cheshire Land Trust Treasure, Details, Story Map
Additional Award Winners | Middle School Division:
Scofield Magnet Middle School, Stamford, CT
CT War Trail, Details, Story Map
Colleges in the Northeast, Details, Story Map
The CT Maps Competition was sponsored by Esri. Based in Redlands, CA, Esri is the global market leader in Geographic Information Systems software. The CT Leadership Team organized the event and provided guidance to the contestants, and judged entries using Esri's standard judging criteria. Many thanks to Cary Chadwick (University of Connecticut),  Miriam Olivares (Yale University), Mark Hoover (MetroCOG), and Steve Perry (SPerry Geospatial) for volunteering their time to support this effort.
If you are interested in participating in the 2019-2020 CT Maps Competition as either a student, teacher, GIS mentor, or judge, please contact Cary Chadwick at cary.chadwick@uconn.edu for additional information.