Welcome!
The Connecticut GIS Network is a voluntary association of individuals and organizations that use GIS-based technologies and data. The Network's purpose is to connect users, learn about GIS activities, explore collaborations and discover information resources - all of which promote a dynamic and innovative community of GIS users. The Network is not affiliated with commercial software, data or service providers. Membership is free and is open to all.
News
"Mappy Hour"- Friday, June 17th

WHEN. Friday, June 17th  5:00-7:00pm WHERE. Arch II Sports Bar and Grill — 632 Cromwell Ave, Rocky Hill, CT WHO. You, I hope! And NEARC, they did all the hard work to make this happen. WHAT. Drinks, mappy stories, pool tables, and darts. With indoor and outdoor seating options! HOW. You can RSVP here (helps with planning). But if you decide to […]
CT DEEP GIS Open Data Site

DEEP has finally launched  the state's first GIS Open Data site. This open data site is the first agency hub site that will be tied into a statewide GeoHub for all agencies, as well as the State's Open Data portal. Stuart DeLand and Bill Toussaint were instrumental in getting the DEEP Open Data site launched.  […]
2022 CT Maps Competition
The CT GIS Network and University of Connecticut are hosting the 2022 CT Maps Competition for middle and high school students.  Registration deadline is April 8th and entries are due May 6.
Visit the CT Maps Competition page for details and a project timeline.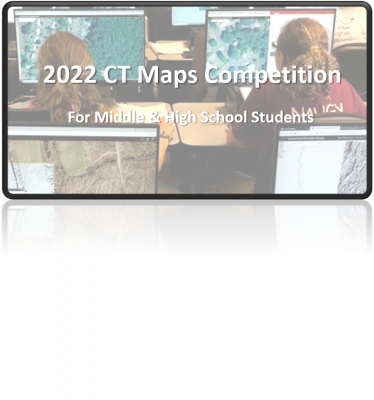 GIS Day 2021
GIS Day 2021 was held Wed. Nov. 17, 2021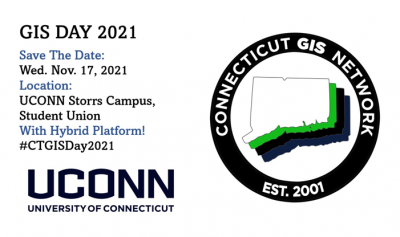 Check out CT GIS Network's YouTube Channel
Become a Geomentor!
We want to promote a way to engage GIS professionals and practitioners with teachers in addition to budding professionals in a range of roles depending on your expertise and interests and the needs of potential mentees. Engagements between Geomentors and mentees may range from advocating GIS technology adoption in a local school, assistance with tailoring GIS activities for a specific school subject or grade level, or just speaking with a budding GIS professional to discuss education or career challenges and questions. The variety of outreach opportunities is as diverse as the application potential of GIS itself.
By serving as a Geomentor, you will enrich the lives of students, teachers, young professionals throughout Connecticut, and yourself. Further, you will be playing a pivotal role in improving GIS and geography education, and more broadly, science, technology, engineering, and math (STEM) education.
If you are interested in serving as a CT GIS Network Geomentor, please fill out the information in this form.
CT GIS Network Logo Winner!
Congratulations go out to David J. Scherf, GISP Manager of GIS/Technical Services at the City of Torrington for designing the new CT GIS Network logo!
Thank you to all who submitted their creative artwork.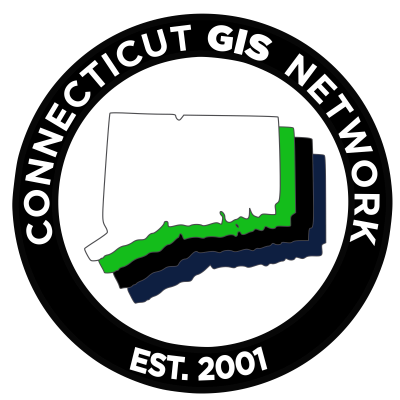 Join the CT GIS Network Listserv!
Find out about meetings, happenings in GIS across Connecticut, ask questions and get answers.
Visit the listserv page for instructions on joining.
Twitter