Welcome!
The Connecticut GIS Network is a voluntary association of individuals and organizations that use GIS-based technologies and data. The Network's purpose is to connect users, learn about GIS activities, explore collaborations and discover information resources - all of which promote a dynamic and innovative community of GIS users. The Network is not affiliated with commercial software, data or service providers. Membership is free and is open to all.
News
Save the Date! Virtual Network Meeting June 11, 2021

Time Slot Title Presenter/Details 8:30 – 8:45 Welcoming Remarks Mike Towle 8:45 – 9:30 Stat Plane Updates Dan Martin of NOAA 9:30 – 10:00 CT CAMA Standards Mike Towle 10:00 – 10:30 Social Networking Break Breakout Sessions 10:30 – 11:00 "Field Maps" replacement for ESRI Collector app Kevin Dunkin 11:00 – 11:30 ArcPro Meghan McGaffin 11:30 […]
Connecticut Virtual GIS Day- Friday, Nov 6th

CONNECTICUT VIRTUAL GIS DAY IS COMING! Friday, November 6, 8:30 AM – 4:30. Zoom link and required registration details can be found on our Hub page at https://gis-day-2020-ccsu.hub.arcgis.com/! Witness this historic first ever virtual GIS Day for the state of Connecticut! Participate with a map poster, web app, story map! Prizes for people's choice! Generously hosted […]
CT DEEP GIS Open Data Site

DEEP has finally launched  the state's first GIS Open Data site. This open data site is the first agency hub site that will be tied into a statewide GeoHub for all agencies, as well as the State's Open Data portal. Stuart DeLand and Bill Toussaint were instrumental in getting the DEEP Open Data site launched.  […]
Check out CT GIS Network's YouTube Channel
Recording of June 11, 2021 GIS Network Meeting
CT Maps Competition
Calling all middle and high school students, teachers, parents and geomentors! The 2021 CT Maps Competition is gearing up and looking for your online map or StoryMap. Awards and recognition to the top 5 finalists in each age category plus more!  Visit the CT Maps Competition page for details and a project timeline.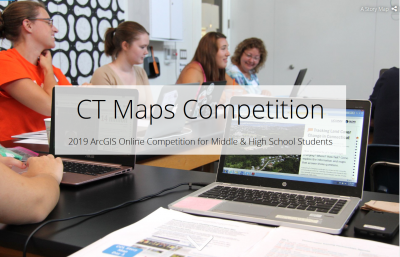 GIS Day 2020
CONNECTICUT VIRTUAL GIS DAY  was on Friday, November 6 2020
This was the first ever virtual GIS Day for the state of Connecticut!
Details can be found on our Hub page at https://gis-day-2020-ccsu.hub.arcgis.com/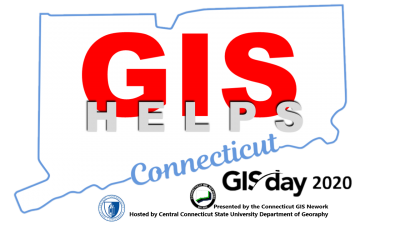 CT GIS Network Logo Winner!
Congratulations go out to David J. Scherf, GISP Manager of GIS/Technical Services at the City of Torrington for designing the new CT GIS Network logo!
Thank you to all who submitted their creative artwork.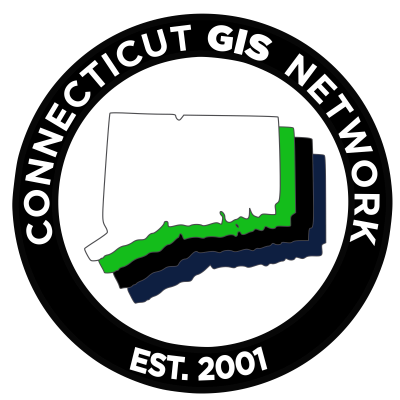 Join the CT GIS Network Listserv!
Find out about meetings, happenings in GIS across Connecticut, ask questions and get answers.
Visit the listserv page for instructions on joining.
Twitter