Welcome!
The Connecticut GIS Network is a voluntary association of individuals and organizations that use GIS-based technologies and data. The Network's purpose is to connect users, learn about GIS activities, explore collaborations and discover information resources - all of which promote a dynamic and innovative community of GIS users. The Network is not affiliated with commercial software, data or service providers. Membership is free and is open to all.
News
Save the Date! September 2, 2022- CT GIS Network Meeting

CT GIS Network September 2022 Meeting – Utility and Regional Theme Where: 6 Rubber Ave, Naugatuck, CT 06770. On the second floor. Parking Available in front. See picture below When: Friday September 2, 2022 Optional Virtual Registration: Not as exciting but it is available and convenient! https://us02web.zoom.us/webinar/register/WN_ouFz5pVDQc-yuWC-bzhl9w 08:30 – 09:00 Networking Social Time (In person feature only) 09:00 – […]
GIS Day 2022
Connecticut Creates!
CT GIS Network's GIS Day 2022 Event. Come join us on November 18
th
for amazing GIS day showcasing all the amazing work we create in the field of GIS. Spaces are limited so register to attend today. PS We are looking for presentations. Present this year! Registration Link:
https://forms.gle/mJYvsprFZyQkwYm3A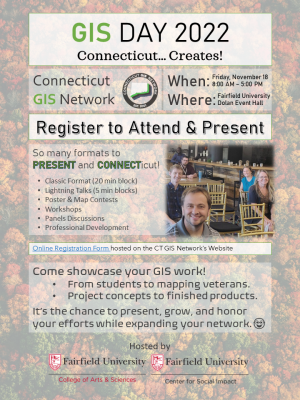 2022 CT Maps Competition
Visit the CT Maps Competition page for details and a project timeline.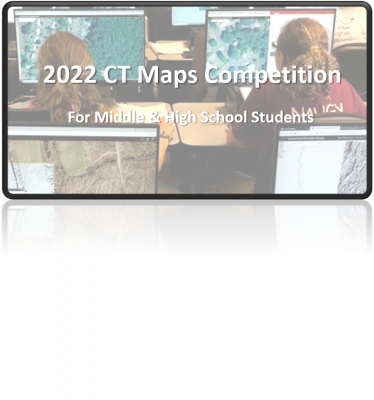 Check out CT GIS Network's YouTube Channel
Become a Geomentor!
We want to promote a way to engage GIS professionals and practitioners with teachers in addition to budding professionals in a range of roles depending on your expertise and interests and the needs of potential mentees. Engagements between Geomentors and mentees may range from advocating GIS technology adoption in a local school, assistance with tailoring GIS activities for a specific school subject or grade level, or just speaking with a budding GIS professional to discuss education or career challenges and questions. The variety of outreach opportunities is as diverse as the application potential of GIS itself.
By serving as a Geomentor, you will enrich the lives of students, teachers, young professionals throughout Connecticut, and yourself. Further, you will be playing a pivotal role in improving GIS and geography education, and more broadly, science, technology, engineering, and math (STEM) education.
If you are interested in serving as a CT GIS Network Geomentor, please fill out the information in this form.
CT GIS Network Logo Winner!
Congratulations go out to David J. Scherf, GISP Manager of GIS/Technical Services at the City of Torrington for designing the new CT GIS Network logo!
Thank you to all who submitted their creative artwork.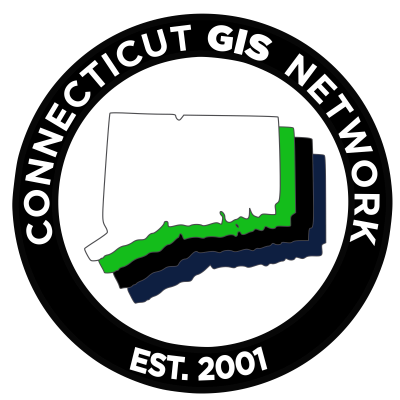 Join the CT GIS Network Listserv!
Find out about meetings, happenings in GIS across Connecticut, ask questions and get answers.
Visit the listserv page for instructions on joining.
Twitter