Welcome!
The Connecticut GIS Network is a voluntary association of individuals and organizations that use GIS-based technologies and data. The Network's purpose is to connect users, learn about GIS activities, explore collaborations and discover information resources - all of which promote a dynamic and innovative community of GIS users. The Network is not affiliated with commercial software, data or service providers. Membership is free and is open to all.
News
Save the Date – GIS Day November 15, 2023

This year GIS Day 2023 will be at the UConn Waterbury Campus, more information will be provided as the planning process moves forward. We will keep everyone updated through the GIS Network website and the GIS listserv.
Save the Date- October 13th, 2023 Mappy Hour!

We have an exciting BONUS Event! Bad Elf offered to Sponsor a Fall Social! When: October 13 Time: 2:00 pm Where: WeHa Brewery 141 Shield Street West Hartford CT  BONUS!! Bring your first poster presentation/Map or Favorite Map you have ever made! If you have any questions, feel free to reach out!
CT GIS Network's 2023 Spring Seminar 2023

CT GIS Network's 2023 Spring Seminar 2023 Where: CTDOT Conference Room A & B. 2800 Berlin Turnpike, Newington, CT 06111 When: Wednesday May 10, 2023 8:30 AM – 12:00 PM Registration Required. https://forms.gle/iiLLaYhvGibPz1DB9. Register by Wednesday May 9th. Virtual Option: https://us02web.zoom.us/j/87076239717 Agenda* 08:30 – 09:00     Networking Social Time 09:00 – 09:30     State GIS Update. Alfredo Herrera – OPM 09:30 – 10:00 […]
CT GIS Network Meeting August 10th 2023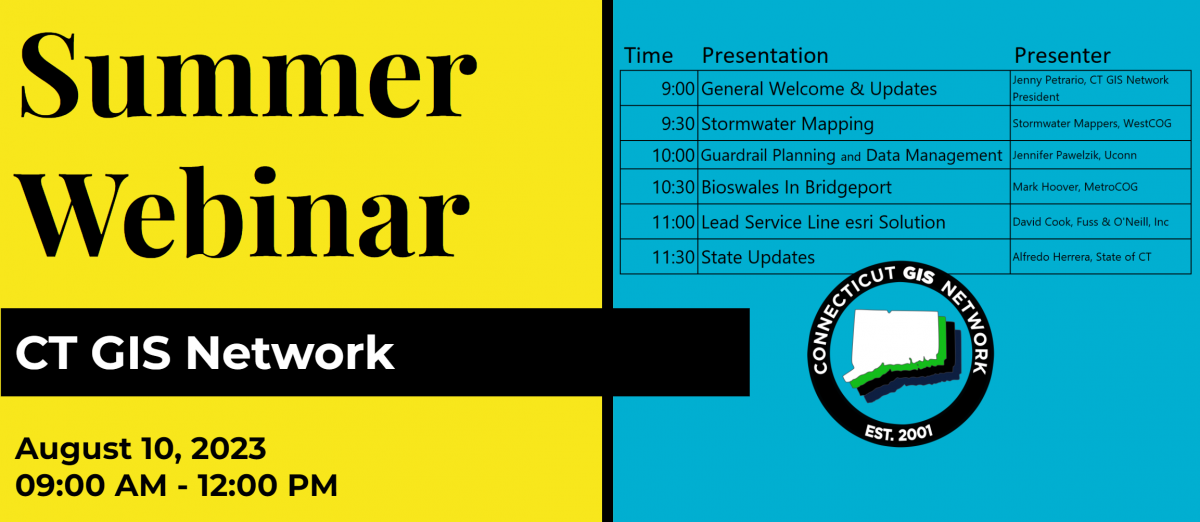 https://www.youtube.com/watch?v=X4ke0Cr6vzg
00:00:00 Stormwater Infrastructure Mapping - WestCOG
00:35:26 Guard Rail Planning and Data Management for CTDOT - UCONN
01:03:19 Bioswales in Bridgeport - MetroCOG
01:26:31 Lead Service Line esri Solution - Fuss & O'Niell
02:00:12 State GIS Update
2022 CT Maps Competition
Visit the CT Maps Competition page for details and a project timeline.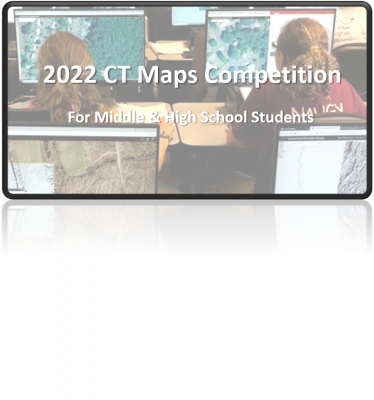 Check out CT GIS Network's YouTube Channel
CT GIS Network Logo Winner!
Congratulations go out to David J. Scherf, GISP Manager of GIS/Technical Services at the City of Torrington for designing the new CT GIS Network logo!
Thank you to all who submitted their creative artwork.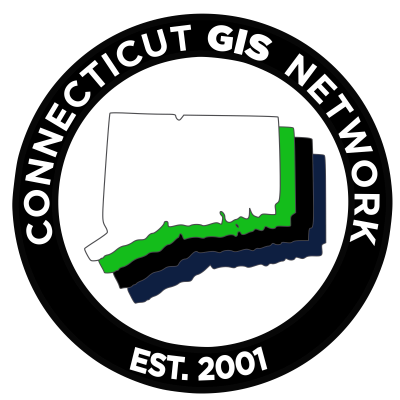 Join the CT GIS Network!
Twitter