Welcome!
The Connecticut GIS Network is a voluntary association of individuals and organizations that use GIS-based technologies and data. The Network's purpose is to connect users, learn about GIS activities, explore collaborations and discover information resources - all of which promote a dynamic and innovative community of GIS users. The Network is not affiliated with commercial software, data or service providers. Membership is free and is open to all.
News
CT GIS Network's 2023 Spring Seminar 2023

CT GIS Network's 2023 Spring Seminar 2023 Where: CTDOT Conference Room A & B. 2800 Berlin Turnpike, Newington, CT 06111 When: Wednesday May 10, 2023 8:30 AM – 12:00 PM Registration Required. https://forms.gle/iiLLaYhvGibPz1DB9. Register by Wednesday May 9th. Virtual Option: https://us02web.zoom.us/j/87076239717 Agenda* 08:30 – 09:00     Networking Social Time 09:00 – 09:30     State GIS Update. Alfredo Herrera – OPM 09:30 – 10:00 […]
CT DEEP GIS Open Data Site

DEEP has finally launched  the state's first GIS Open Data site. This open data site is the first agency hub site that will be tied into a statewide GeoHub for all agencies, as well as the State's Open Data portal. Stuart DeLand and Bill Toussaint were instrumental in getting the DEEP Open Data site launched.  […]
GIS Day 2022
Connecticut GIS DAY 2022
Connecticut Creates! November 18th at Fairfield University
Event Website. Now you can easily navigate the day from your phone. Minor updates will occur as we approach the day (Please alert me of any edit request, it takes a village!).
Event Registration Link. Registration is required to attend. So, if you have yet to fill out the application, please take a moment to do so. We are at 90% capacity!
Connecticut GIS Network Discord. Engage with your community on GIS Day. Comments will be occurring live on the day of through discord. Also, a forum to discuss GIS topics with your peers.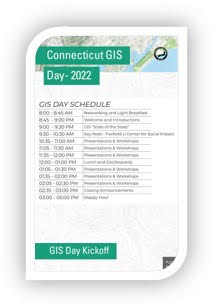 2022 CT Maps Competition
Visit the CT Maps Competition page for details and a project timeline.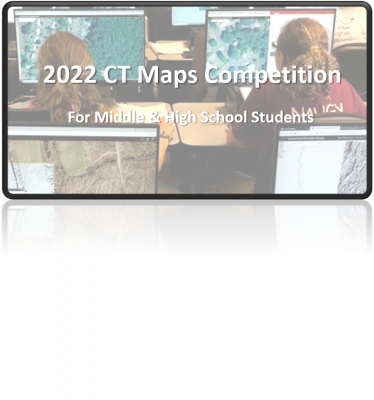 Check out CT GIS Network's YouTube Channel
CT GIS Network Logo Winner!
Congratulations go out to David J. Scherf, GISP Manager of GIS/Technical Services at the City of Torrington for designing the new CT GIS Network logo!
Thank you to all who submitted their creative artwork.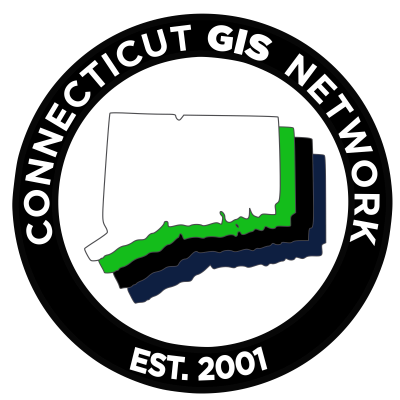 Join the CT GIS Network Listserv!
Find out about meetings, happenings in GIS across Connecticut, ask questions and get answers.
Visit the listserv page for instructions on joining.
Twitter