Connecticut GIS DAY 2022 🦃
Connecticut Creates! November 18th at Fairfield University
Event Website. Now you can easily navigate the day from your phone. Minor updates will occur as we approach the day (Please alert me of any edit request, it takes a village!).
Event Registration Link. Registration is required to attend. So, if you have yet to fill out the application, please take a moment to do so. We are at 90% capacity!
Connecticut GIS Network Discord. Engage with your community on GIS Day. Comments will be occurring live on the day of through discord. Also, a forum to discuss GIS topics with your peers.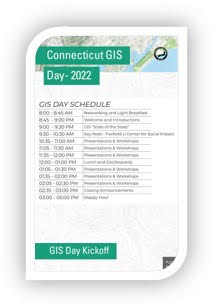 Some Highlights!
Presentations. Up to 18 different GIS presentations in a variety of fields. YOU COULD PRESENT!
State of the State. What does the State of CT have planned for the coming year!
Technical Workshops. Learn a new skill or strengthen an existing one.
Professional Workshops. Connecting Jobs and workers discussing what each is looking for.
Poster Contest. Printed format displayed in the main hall of the conference event.
Map Contest. Webmaps, storymaps welcome.
Low Cost. The event is free
Lunch Likely Provided. We're 90% sure we got you covered lol. Finalizing details.
Vendor Booths. Get swag, give swag, see what the vendors are up to!
Mappy Hour. A social after closing. Have a choice beverage and connect.
GIS Game Shows. Test your trivia!
CT GIS Network Discord Channel. That's right, we have stepped into the modern era of internet communication and created a network discord channel. Check it out and join its just launching. https://discord.gg/9U3FmbfZ
---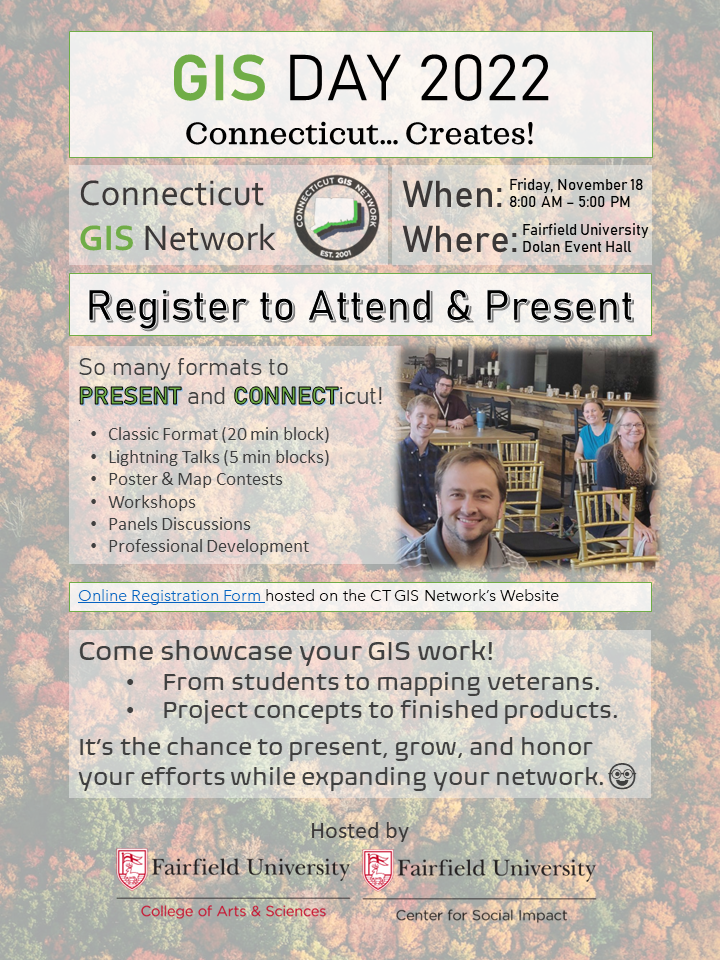 ---
GIS Day Archive: A Look Back
2021, University of Connecticut, Storrs
2020, Virtual
2019, Eastern Connecticut State University
2018, Hartford Public Library
2017, Yale University, New Haven, CT
2016, Southern Connecticut State University, New Haven, CT
2015, Eastern Connecticut State University, Willimantic, CT
2014, Wesleyan University, Middletown, CT
2013, Legislative Office Building, Hartford, CT
2012, University of Connecticut Avery Point, Groton, CT
2011, Legislative Office Building, Hartford, CT
2010, Central Connecticut State University, New Britain, CT
2009, Legislative Office Building, Hartford, CT
2008, Southern Connecticut State University, New Haven, CT
2002, Legislative Office Building, Hartford, CT