Save the Date! GIS Day 2019 will be held at Eastern Connecticut State University
Connecticut GIS Day will be held on Wednesday, November 13 at ECSU. Mark the date on your calendar and stay tuned for more information!
CT GIS Day 2018 at the Hartford Public Library

Thank you for joining us on  Wednesday, November 14 at the Hartford Public Library for Connecticut GIS Day. The event was a huge success! The CT GIS Network wishes to congratulate the students of A.I. Prince Technical High School for winning the 2018 CT GIS Day People's Choice Poster Award.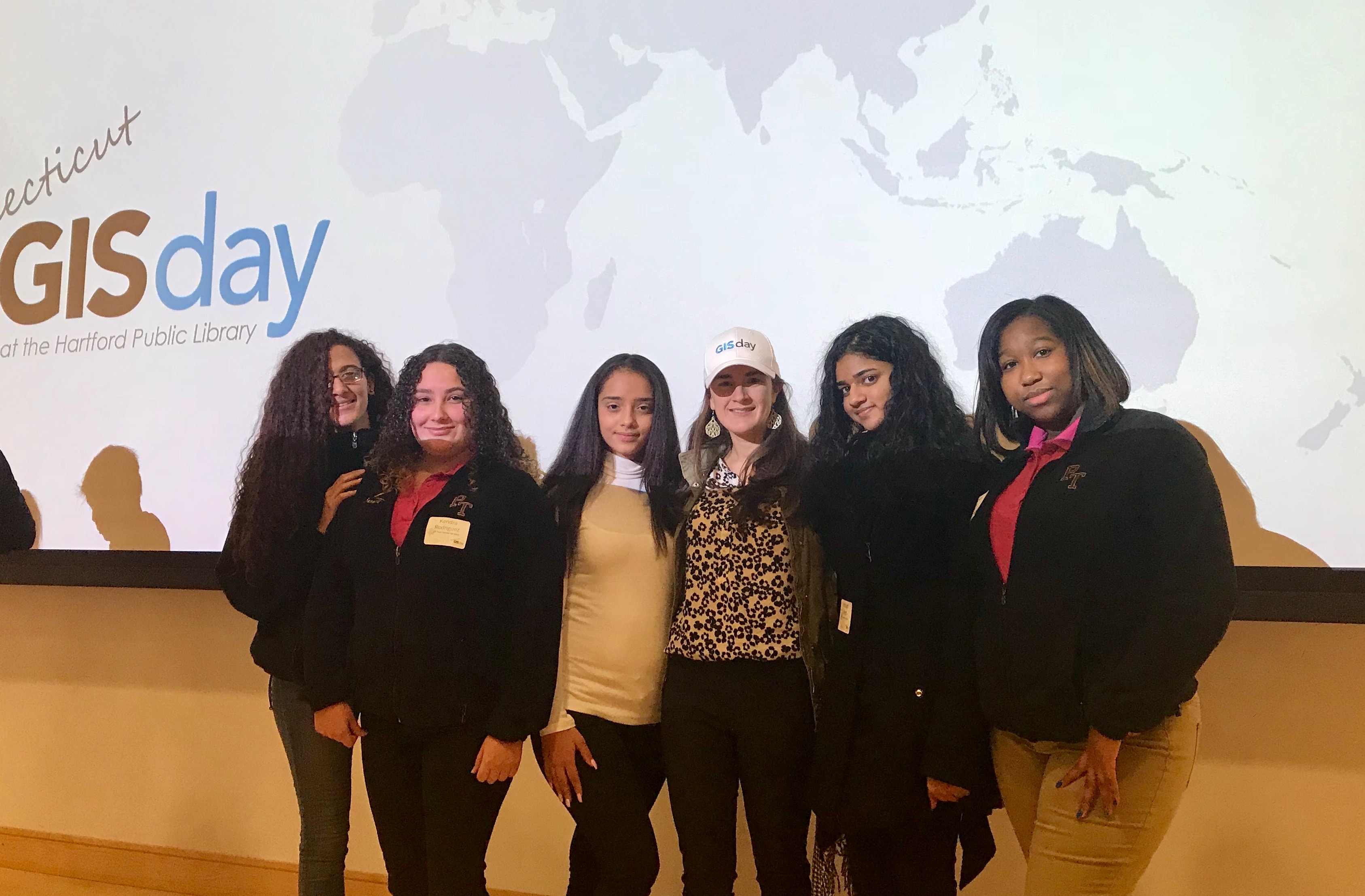 Agenda Overview (see detailed agenda below)
9:45 AM – Registration and morning refreshments sponsored by Tighe & Bond
10 AM – Welcome address
10:15-12 PM – Morning Plenary
12-1:15 PM – Lunch in the city, Map My Foot Demo in CCC room  (view lunch map options)
1:15-3:15 PM – Afternoon presentations from GIS users
1-3:30 PM – Esri hands-on workshop (registration is required)
3:30 PM – NEURISA sponsored Mappy Hour at Arch Street Tavern
All day – poster session (please indicate poster entry on registration form) Presentations
Methods for Mapping Stormwater Infrastructure, Rebecca Talamini, AppGeo (PDF)
Contact Cary Chadwick (cary.chadwick@uconn.edu) if you have questions about GIS Day!
This event was sponsored by the CT GIS Network, University of Connecticut, Hartford, The Hartford Public Library, and the University of Connecticut Center for Land Use Education and Research. Refreshments sponsored by Tighe & Bond. Mappy Hour sponsored by NEURISA. Thank you Esri for participating!

——————————————————————–
GIS Day Archive

2002, Legislative Office Building, Hartford, CT
2008, Southern Connecticut State University, New Haven, CT
2009, Legislative Office Building, Hartford, CT
2010, Central Connecticut State University, New Britain, CT
2011, Legislative Office Building, Hartford, CT
2012, University of Connecticut Avery Point, Groton, CT
2013, Legislative Office Building, Hartford, CT
2014, Wesleyan University, Middletown, CT
2015, Eastern Connecticut State University, Willimantic, CT
2016, Southern Connecticut State University, New Haven, CT
2017, Yale University, New Haven, CT